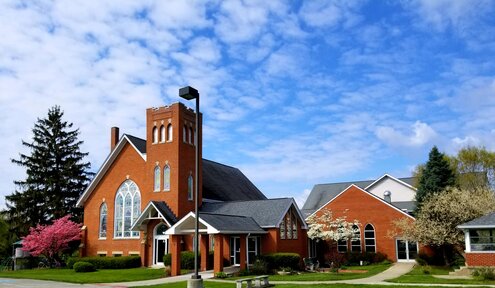 If you are not regularly attending a church, we invite you to visit Hopeful. We aren't perfect, just sinners saved by grace through faith. But we will welcome you into our church family and pray that the Lord will come to you through Word and Sacrament.
We are located in the heart of Florence, KY, on the street named after our church, Hopeful Church Road.
When you arrive, you'll be greeted at the front door by a member of our Hospitality Team. They will provide you with a Weekly Banner so you know the types of things we are doing in our community, some info about the Worship service, and answer your questions.
Our Sunday 9:00 AM service is held in our chapel, just up the steps to the left of the Hospitality Table. The 9:00 service is a traditional Lutheran service. There will be a paper booklet in the pocket of the pew so you will know the readings and prayers for the day.
Our Saturday 5:00 PM and Sunday 11:00 AM services are held in our sanctuary, just down the corridor and to the right through our fellowship hall. Both of these services are more contemporary in nature, the readings, prayers, and song lyrics will be on the screens in the sanctuary.
Communion, or the Sacrament of the Altar, is served at each of our services weekly. All baptized believers are welcome to come to the table of the Lord.
If you have any questions, feel free to contact us.